Will Justin Bieber Go to Jail? 13 Crazy Things He's Done That Proves YES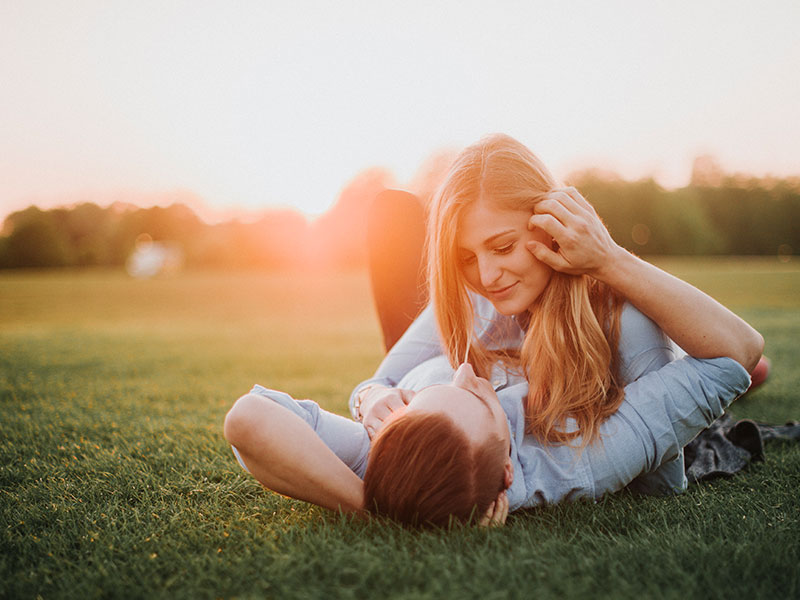 "I just need one more shot, second chances,"Justin Bieber sings in his popular song "Sorry", but it looks like some lawyers aren't accepting that apology. The Biebs might be worth a hefty $225 million, but his musical accomplishments might not be enough to bail this star out of jail.
Recently, the "Beauty and the Beat" singer has received numerous beatdowns from judges and courts in the U.S. and worldwide. In Miami, he has faced DUI charges. In Argentina, he could end up in prison for up to six months for an alleged attack against a photographer (so you probably won't see a tour stop in Argentina anytime soon). And just a few weeks ago, Chinese courts banned him from the entire country.
According to the Chinese's government's official statement, "Justin Bieber is a gifted singer, but he is also a controversial young foreign singer. He has engaged in a series of bad behaviours, both in his social life and during a previous performance in China, which caused discontent among the public."
The Canadian star's track record does not look stellar. Read on for a list of the craziest things Justin has done in the past few years, from punching a fan to exposing everyone to his birthday suit. If he keeps this non-stop bad behavior up, he could land in prison for good! At least there will be "One Less Lonely Girl" in lockup!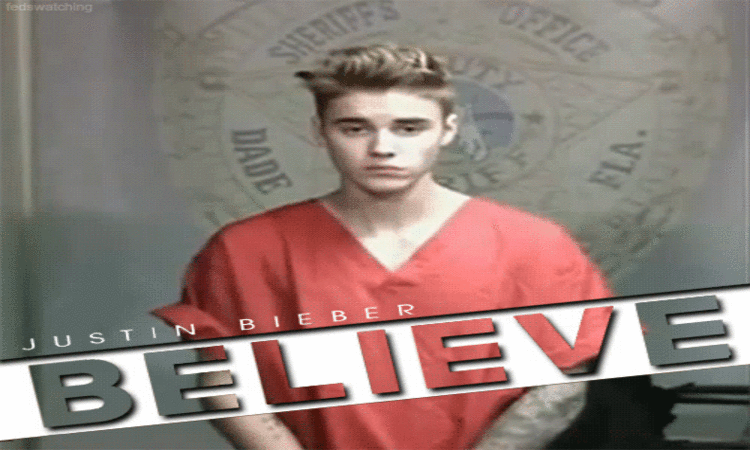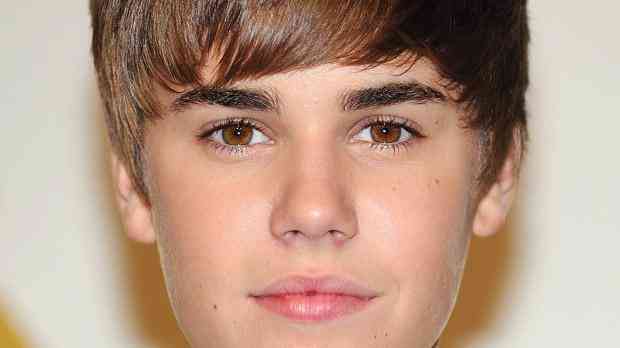 13 14-Year-Old Justin Wants to Join the KKK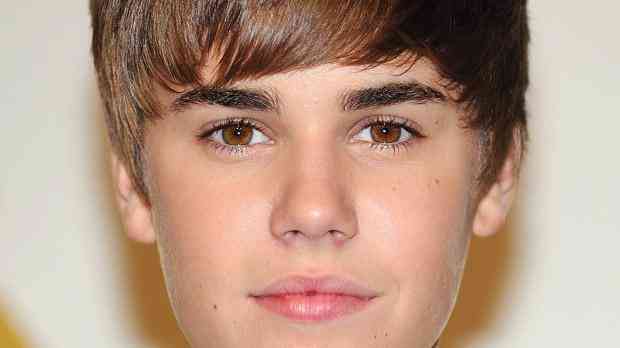 Justin Bieber's song "One Less Lonely Girl" was his biggest hit until he released "Baby" a year later. While the song went high on the charts, the then 14-year-old crooner took the song to new lows in a shocking clip leaked by TMZ. In the video, the super-young Justin (who still was rocking his adorable pixie haircut) replaced the word "girl" in the song with the awful N-word. He finished the 30-second jaw-dropping video with these infamous words: "If I kill you, I'll be part of the KKK, but there'll be one less lonely n----r."
During the video, you can hear Justin's friends giggling in the background. Apparently, Justin faced extortion and people wanted him to pay them money to prevent the release of the video, but the video still ended up online. After, the young teen said, "As a kid, I didn't understand the power of certain words and how they can hurt. I thought it was ok to repeat hurtful words and jokes, but didn't realize at the time that it wasn't funny and that in fact my actions were continuing the ignorance."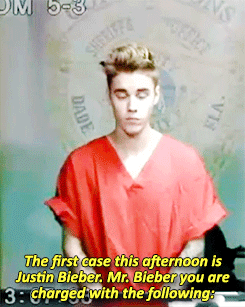 12 19-Year-Old Justin Goes Nuts in London
Justin's 19th birthday probably wasn't his favorite. He ended his birthday party early, telling fans it was his "worst birthday." He was then late for a London performance, then had trouble breathing while singing and ended up fainting backstage. Maybe he should have had a London Fog to stay hydrated?
The next day, the Biebs left his London hotel and went absolutely nuts on a photographer. Dressed in all-red like the Canadian flag, the singer hurled a long string of swear words at the photographer. It got so crazy that his team had to hold him back. The entire thing was, of course, broadcast across British TV, shocking everyone. Shortly after, the singer went to Twitter to explain himself: "Sometimes when people r shoving cameras in your face all day and yelling the worst thing possible at u… well I'm human. Rough week," he wrote. Rough week indeed.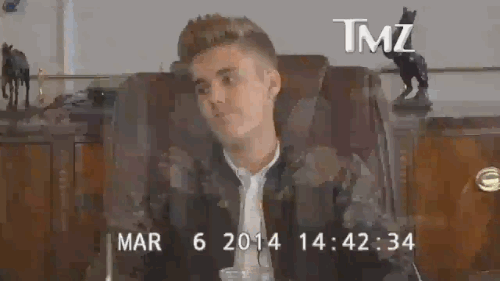 11 No Monkeying Around in Germany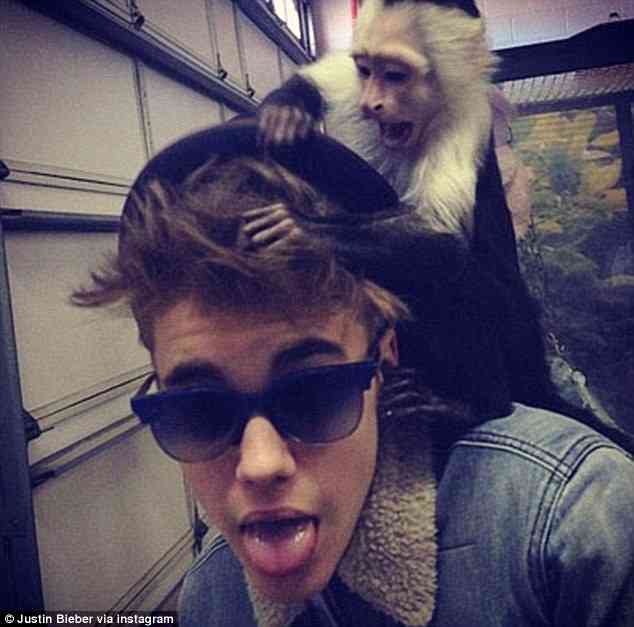 A few weeks after his London meltdown, Bieber discovered that you can't monkey around with Germany's monkey laws! Some people think that others are a douchebag considering what pet they own. For example, people think owning a bulldog is pretty douchey. Justin took it to another level with his pet monkey Mally. He took the monkey with him on tour to Germany… which is illegal unless you have the proper paperwork. The Biebs didn't have the paperwork done, and he was forced to shell out thousands of euros to leave the monkey at an animal shelter in Munich.
The worst part is that the Biebs never went back to get his supposedly beloved pet. In fact, she was abandoned and sent to a zoo in northern Germany. Poor Mally. She just needed "Somebody to Love."
10 Justin Takes Aim at Bill Clinton
Justin pulled down his pants and took aim at Clinton. Sort of…  When some dudes need to pee, they find a Starbucks. It seems like the Biebs is too good for a bathroom, and a mop bucket will do just fine!
One night, Bieber and his friends were partying it up in a nightclub. On their way out, they cut through a restaurant's kitchen where Justin opened his infamous low-hanging pants, whipped out his junk and began peeing all over the mops that the restaurant uses to clean its floors. While he peed, his friends acted like it was a great honor for the restaurant to have Justin pee there. Meanwhile, Justin yelled "F--k Bill Clinton!"
After the pee incident, Justin hopped onto Twitter and tweeted: "@billclinton thanks for taking the time to talk Mr. President. Your words meant alot. #greatguy." No word yet if Justin has found another mop bucket and a photo of the current President. We wonder if he's a fan?
9 Bieber Joins the Mile-High Hot Box Club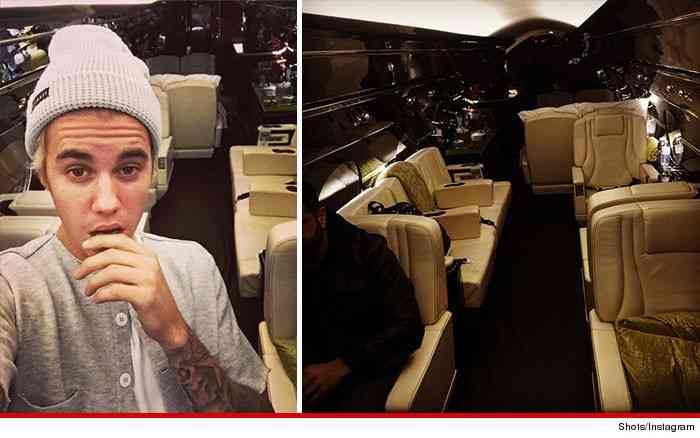 Like many celebrities, Justin has easy access to all kinds of goodies, including the illegal stuff. He's had multiple run-ins with drug enforcement authorities.
In April 2013, Justin's tour bus was raided by Swedish police after they smelled marijuana. They found "unspecified narcotics" on the bus. That July, his tour bus was halted at the U.S.-Canadian border because U.S. border agents found marijuana. A few months later, a photo of Bieber holding what appears to be a joint leaked online.
But all that pales in comparison to Justin's hot box in the sky. According to an eye-popping NBC report, Justin and his dad loved their weed so much that while flying, they filled the entire private luxury plane with marijuana smoke. It got so bad that the pilots were forced to put on oxygen masks. They then were "extremely abusive" to a poor flight attendant. They were so horrible to her that she had to run and hide in the cockpit with the pilots.
According to the official report about the mile-high incident, "The captain of the flight stated that he warned the passengers, including Bieber, on several occasions to stop smoking marijuana. The captain also stated he needed to request that the passengers stop their harassing behavior toward the flight attendant and after several warnings asked the flight attendant to stay with him near the cockpit to avoid any further abuse."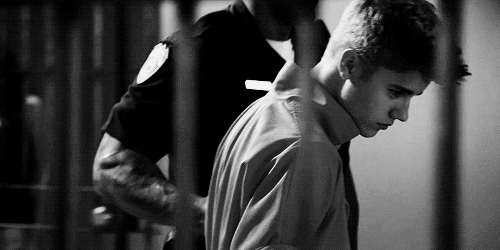 8 Don't Egg Justin On
You don't want Justin as a neighbor! After Justin moved into a luxury upscale neighborhood, his neighbor asked the pop star to stop speeding in his blue Ferrari because it was dangerous for kids who were playing. The neighbor sued Justin and alleged that when he asked the Biebs to slow down, Justin threatened to kill him and then spit in his face.
The same neighbor then said that while the neighbors were all outside having a barbecue, a different neighbor asked Justin to stop speeding dangerously in his car. One of Justin's bodyguards made racist threats and said, "What are you going to do about it, Jew boy?" Justin decided to take matters into his own hands, literally, and like a delinquent teenager, he egged his neighbor's house.
The police raided his home and found cocaine. He was forced to pay $80,000 in penalties for the egging incident, ordered to serve community service hours and forced to take anger management classes.
7 Bieber Bails on Egg Incident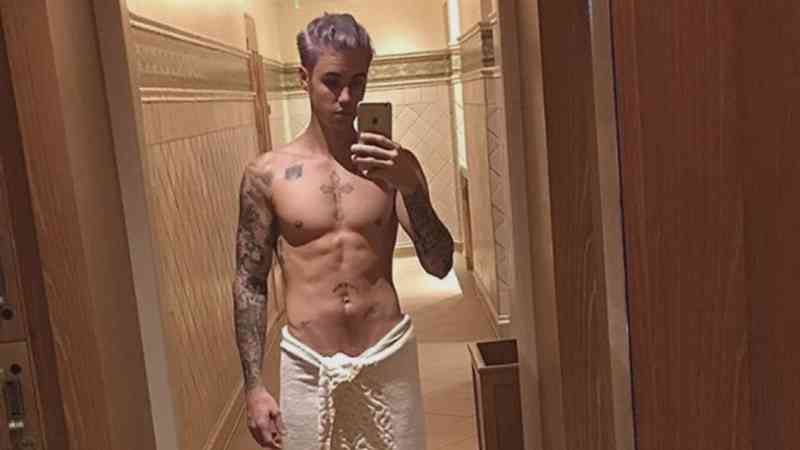 If you watch any of Justin's music videos or concert performances, you'll agree: The guy has got moves! Except if those moves involve doing good for the community!
Justin was ordered by the courts to serve community service time after damaging his neighbor's house and cars with eggs. Apparently, Justin thinks he is too good to take responsibility for and deal with the consequences of his actions. His attorney told the judge that he couldn't complete all of his community labor or anger management classes because he had a sore ankle from playing soccer. Plus, Justin's lawyer argued, he was just too busy taping television interviews and going to the recording studio. The judge decided that those were fair excuses and gave Justin extra time to complete his sentence.
6 Justin Fakes Being Handicapped to Cut In Line at Disneyland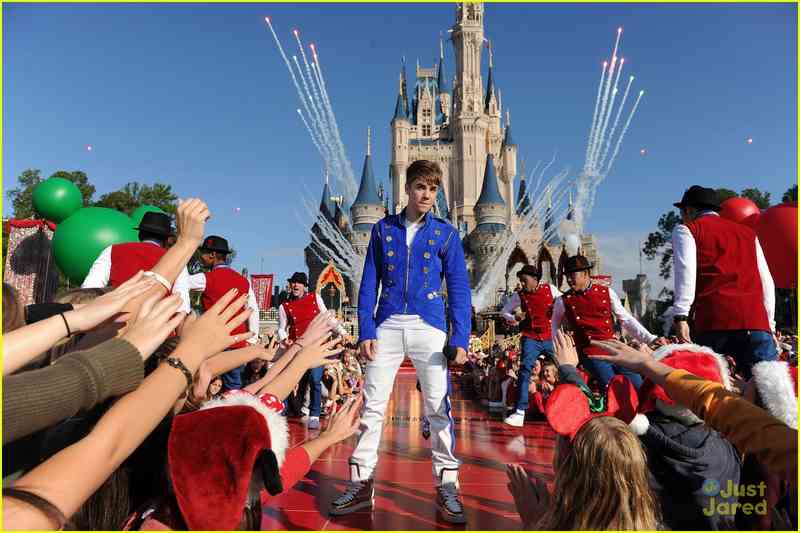 A celebrity of Justin's caliber gets red carpet treatment everywhere, including at Disneyland. Disney agents escort him around the park and get him in and out of rides quickly and easily so he doesn't have to get close to the massive crowds of normal everyday people like you and me.
But apparently cutting in line like a normal celebrity isn't Justin's style. Instead, he decided to make a mockery of children with handicaps by getting into a wheelchair and getting pushed around the amusement park. Handicapped people get to jump the line, and even though Justin posts lots of shirtless photos showing that he's clearly able to walk and stand, he thought it would be cool to fake needing a wheelchair.
5 Justin Raced His Car While Taking Prescription Pills
Kids, never drink or drive. If you do drink and drive, don't smoke weed, too. And if you do smoke weed while drinking and driving, don't take prescription pills. Oh whatever, do what you want! Your role model Justin Bieber does all of the above!
That's right. In the wee hours of the night, Justin decided to drink and get high while drag racing his yellow Lamborghini on the streets of Miami. Sure, this puts everyone else's life at risk, but Justin probably thought it would just be a fun little joyride. That joyride caught a cop's attention. Justin was arrested and thrown in jail thanks to a suspicion of a DUI. Thankfully, his bail was only set at $2,500, which is probably less than it takes to do an oil change on his luxury car.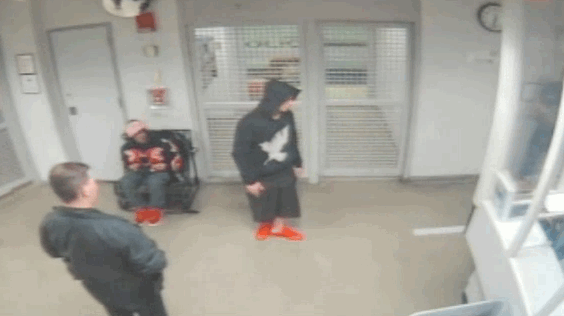 4 Justin Tries to Fight the World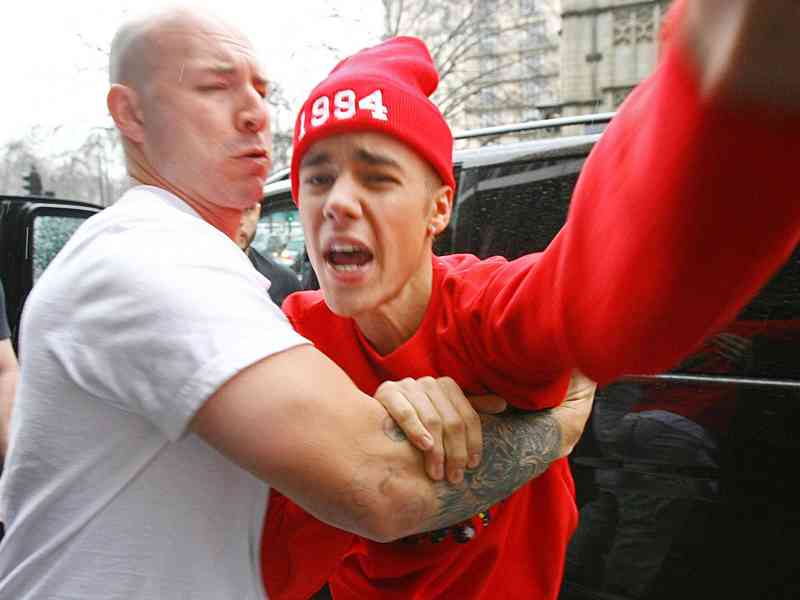 Guess those anger management classes weren't very successful! Justin has a penchant for getting into needless fights. This love of violence has affected fans and random members of the public, not just Justin's entourage.
While watching the Cleveland Cavaliers at last year's NBA Finals, a video surfaced that showed him trying to punch another man at the game. They started fighting before bystanders stopped them. After, Justin posted a selfie on social media with the caption, "Not a scratch on this pretty boy."
But that's not the only random fight he's gotten into. In 2014, he was riding an ATV with Selena Gomez when he rammed into a minivan and started a fight with the van's driver. He was arrested for assault. Another time, he punched a fan when he was on his way to a performance in Brazil. The fan was trying to meet him when Justin slammed him in the face!
Then in Spain, he saw actor Orlando Bloom having dinner. Orlando didn't get up to shake his hand when Bieber walked in, so Bieber insulted Bloom's ex-wife. In response, Bloom punched Justin. Apparently, the restaurant's attendees cheered when Justin left, but that wasn't the last time Justin got into a fight with Bloom…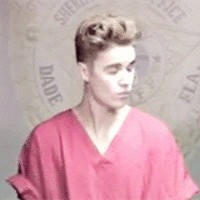 3 Justin Woke Up Like This (In a Brothel)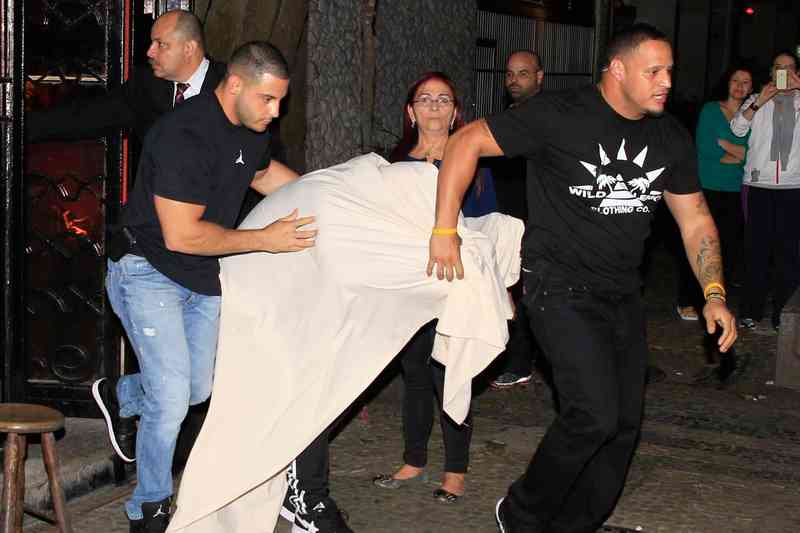 Brothels are illegal in the country of Brazil, but that doesn't stop some illegal brothels from running. Rumor has it that for 40 minutes of hot and steamy action, you'll have to pay $210 or more! With Justin's net worth of millions of dollars, that's spare change!
While Justin still tries to maintain a squeaky-clean image, sometimes that doesn't work out. Like when he wakes up in a brothel. When images showed up online from Rio de Janeiro, Brazil, they showed Justin trying to sneak out of a brothel. His team covered him in a white sheet so he looked like a ghost at a Halloween Christmas party, but the only person that should be scared was Justin himself.
His team at first denied that it was him but later admitted that yes, Justin was at an illegal brothel and was trying to escape unseen. The Brazilian news website EGO then reported that Justin was actually kicked out of the brothel for breaking the rules, while Billboard reported that Justin had gone there with a friend and the two had stayed there for approximately three hours.
2 Justin Whips Out His Manhood to Fight Orlando Bloom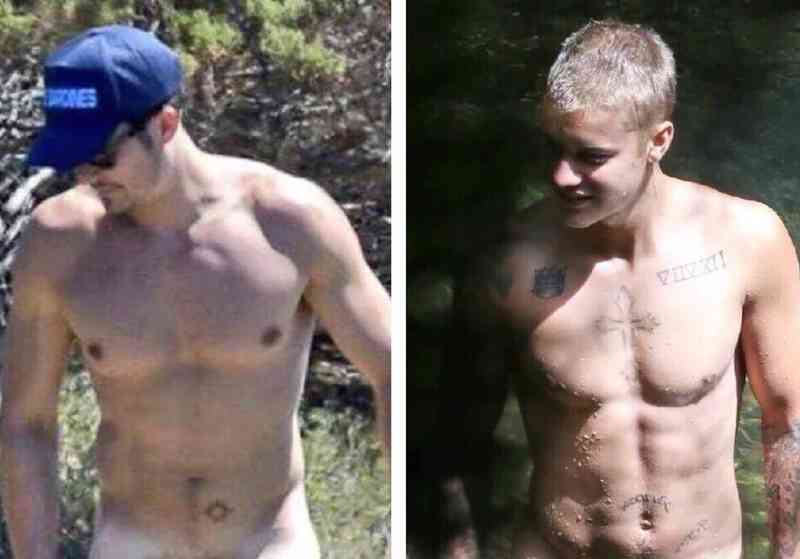 Last year, pics leaked of Justin's archenemy Orlando Bloom paddle boarding while nude. Everyone gawked at Bloom's toolkit. But as we know, Justin doesn't do well when someone else gets all the attention. Two days after Bloom's pics leaked, Bieber whipped off his clothes for a nude photo shoot in Hawaii.
The difference is that Bloom's photos were taken by paparazzi and he didn't know he was being followed. Justin did it with a professional photographer. There are even rumors that he had someone use Photoshop to enhance certain parts of his body… if you know what we mean. In Hawaii, the legality of this is pretty murky. You're supposed to only go to an established nude beach, and the Supreme Court has ruled that you can't "intentionally" be trying to alarm someone. But Justin did it anyway!
1 Justin Leaves Church and Runs Man Over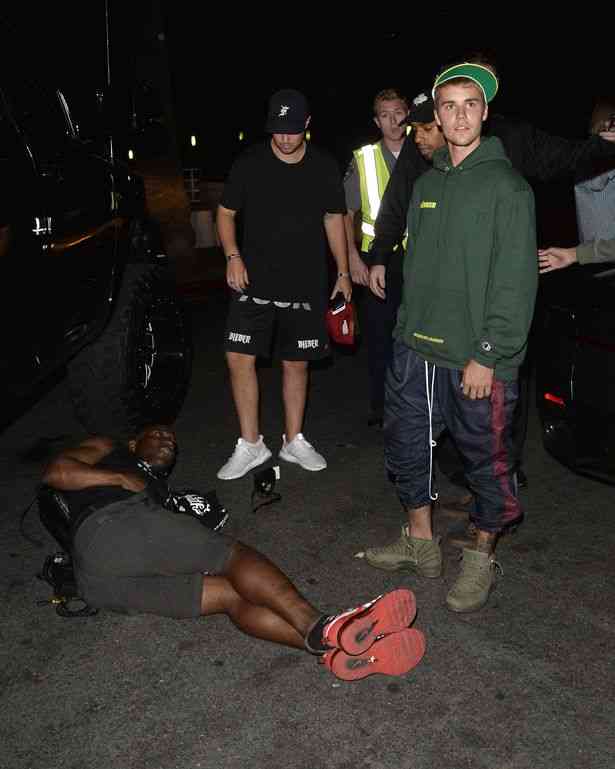 Some people want to be hit on by Justin Bieber. And other people just get hit by Justin's SUV! Recently, the pop star and his massive vehicle ran Maurice Lamont over while the paparazzi photographer was taking a picture. The accident happened outside Hillsong, Justin's church. Do you think that Justin prayed for forgiveness after?
Witnesses say the poor man was lying on the ground in obvious pain with his camera equipment on the ground beside him. It took ten minutes for help to arrive, and videos show Justin kneeling next to the victim and chatting with the police and medics afterward. On social media, Lamont said that "accidents happen." But with Justin's long history of run-ins with photographers and paparazzi, does this count as an accident? To quote the singer himself, never say never!